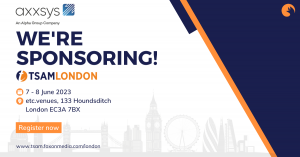 TSAM London 2023
7th – 8th June
We are excited to sponsor this year's TSAM London, the 2-day conference will bring together leading asset management firms to discuss the latest challenges facing the buy-side community, as well as the evolving technology and regulatory landscape.
The event has extensive coverage around the front, middle and back office of the investment operations function and is an excellent learning experience for asset management professionals.
You'll find our team of highly skilled consultants in the exhibit hall, make sure you drop by and hear how we are helping some of the world's largest asset management firms maximise their technology investments.
Learn more and register for the event here.
Please leave your contact detials here
By submitting this form you agree to our privacy policy, you can unsubscribe at any time.